Hi everyone! First post of year 2009 (:
Please keep 15th and 22nd August 2009 free! A class gathering is brewing.
yp (:
by Unknown @ Thursday, July 16, 2009
|
11:48 PM
Class outings
Hello, here are the class outings that will be happening after A levels :D
zoo outing on 26th november, 10.30am meet at entrance.
coming up: iceskating trip between 7th to 9th and sentosa trip after christmas!
by Denyse @ Wednesday, November 12, 2008
|
10:04 PM
Happy Birthday Mr Leong!
by Unknown @ Monday, October 6, 2008
|
7:35 PM
More class photos :)
by Denyse @ Thursday, August 14, 2008
|
10:57 PM
.
by Denyse @ Tuesday, August 5, 2008
|
9:16 PM
Happy birthday ben toh lol
hahahahh
by Denyse @ Thursday, July 24, 2008
|
9:18 PM
Hello, if you didn't receive the email i forwarded from fanglaoshi pls tell me!
by Denyse @ Monday, June 9, 2008
|
10:27 AM
HELLO PPL! i have only collected money from 15 ppl so far. which means im still short of 20bucks*13ppl. i cant be arnd for stj tmr so pls do cooperate with lily and pay him the money when he ask u for it. if u make things difficult for him i'll make sure i will *&()(@*#!@ you and charge u interest on mon! yay!
have fun at stj and dont miss me too much! (though i know that would be really really hard!) xD
BTW.. before i forget, COME FOR DANCE NIGHT! haha. do come and support rach, zhu hao and i!(:
<3 ur lovable treasurer(:
by hanzhi @ Saturday, May 3, 2008
|
12:49 AM
STJ
date/time:
3 May 2008, 530pm.
FURTHER DETAILS ON THE MEETING PLACE FOR RESPECTIVE GROUPS OF PEOPLE WILL BE DISSEMINATED OUT OVER THE NEXT FEW DAYS.
venue:
Secret Recipe (Suntec City) #B1-005A-006
how to get there:
visit http://www.giichinese.com.cn/conference/bio-medical-asia/venue.shtml
DEAR CLASS,
the restaurant has strongly advised us to make pre-orders so that they can cope with our appetite. (: so, please visit http://www.secretrecipe.com.sg/foodmenu.asp and decide what you want. then pen it down on the list that will be circulated in class on tuesday and wednesday.
for juniors, we will be sponsoring them $15 per person (or are you guys feeling MORE generous? hahaha), so they will be paying for any spillover cost from their orders.
for seniors, your wallet is your limit.
so, look out for the finalised MEETING PLACE(notified via sms) and PLACE YOUR PRE-ORDERS on the list by 29APRIL! (:
this will possibly be the last outing before/between the onslaught of
econs timed assignment, math lecture test, chaguan test, tangshi songci test, xueshan test ETC, ETC, E T C. so DO NOT MISS IT! MUG IN ADVANCE! (like on labour day and CSM day) :D
HEEHEEHEE
yingpeng :D
by Unknown @ Monday, April 28, 2008
|
6:53 PM
ECONS TIMED ASSIGNMENT
Cos I'm feeling nice (which is not often haha!), so here are the questions for people without access to EMB.
1a) Explain the policies that a government may adopt to increase investment. 12m
b) Discuss the effects of a change in investment on an economy. 13m
2a) Explain the effect of a change in autonomous expenditure on national income of an economy. 10m
b) Discuss the policies to tackle inflation in an economy. 15m
by milk-cookies @ Friday, April 25, 2008
|
11:10 PM
STJ!
hi class! Based on votes, we have arrived at this conclusion:
date: 3 MAY 2008, Saturday, DINNER.
venue: Secret Recipe (outlet undecided, but will choose a location that's central)
HOWEVER, you guys might want to consider again!
(this is because there's an air of undecidedness in the class, with very close numbers supporting the Marche Clan and the SR Clan.)
To help you make a better decision, please see the menus of the Top Three Most Popular STJ Places(
as voted by you
!):
1. Secret Recipe menu- http://www.secretrecipe.com.sg/foodmenu.asp
2. Marche menu- http://www.shokudojapanese.com/pdfs/EntreeRiceNoodleSides.pdf
3. Cafe Cartel- http://www.cafecartel.com.sg/food.html
and a new suggestion- Riverside Indonesian Restaurant
(Quoted from its website http://www.riverside.com.sg/super.htm):
Dining By The River Under The Stars
30 Merchant Road, Riverside Point, #01-04, Singapore 058282 (opposite Clark Quay)
On a saturday night, we'll be charged extra but the final cost per person would be around $14.10 (gst etc all included). i'm sure abt the price cos i called the Auntie to ask. too excited already -.- but we don't HAVE to go there just bcos i called her. so don't worry!
anyway just continue feeling excited and feel free to voice your opinions! (provided you read here lol)
Juniors, feel free to make noise as well (:
with lots of HAHAHAs,
yingpeng
by Unknown @ Thursday, April 17, 2008
|
6:41 PM
FOOD FIGHT!
This is cool. A history of warfare involving America, from WW2 onwards. Told through food representing different countries:
Try figuring before reading the spoilers below!
List of food and what countries they represent
here
.
Breakdown of battles
1. The World
2. WWII - Holocaust / French surrender / London Bombing / Pearl Harbor / Battle of Midway / D-day / fall of Berlin / Hiroshima
3. Arab-Israeli War
- Brits leave Israel
- Israel expands territory
4. Korean War
- China and Russia back the North
- The US back the South
5. Cuban Missile Crisis
6. Vietnam
- China and Russia back the North
- The US back the South
7. Cold War
- Arms race
8. Intifada
9. Gulf War
- Iraq invades Kuwait
- Scuds
- Smart bomb
10. 9/11
11. Afghanistan
12. Gulf War II
- Shock and awe
- IED
13. Bug Food
by milk-cookies @ Tuesday, March 11, 2008
|
4:48 PM
cll blocks
闭卷,宋词新诗提供原文
cha guan ppt will be uploaded soon!
by Denyse @ 12:10 AM
hello :) posting in a fit of randomness!
here are some photos from cny (v outdated, i know ):)
HAHA and, does anyone agree with denyse and i that the square-jawed guy in the video resembles mao? not just in looks but in behaviour as well X)
all the best and JIAYOU for blocks-mugging!! :)
<3,
edlyn
by Unknown @ 12:01 AM
XD
Hahahaha check this out omg it's very cute!
Pikachu Voice Actor
AND THIS IS FUNNY (ESP THE LAST PART)
OOD. OOD. OOD. FFFOOOOOOD. Uhm yum yum yum yum.
LOL!
Jiayou mugging!
by milk-cookies @ Monday, March 10, 2008
|
6:03 PM
hello my
l
o
v
a
b
l
e
a1
2
-
e
r
s
!
ur favourite treasurer is back with her
c

o

l

o

u

r

f

u
l
post! xD
anyway, as you guys may know frm ms chin's previous post, our jts is coming soon but the jnrs dont hav sufficient money to pay yet. so what we are going to do is we pay 20 bucks each for class fund first and we use that to pay for our jts. then when the jnrs reimburse we will use this money for our stj! which means
jnrs: if u guys dont pay us back, there will be no stj! so
no $$=no stj!

yepp. as for our class ppl, the only thing that concerns you is the
20

bucks
that you guys need to pay. most of it (arnd 80%) will be going to stj, so dont complain if another round of collection follows soon. if you guys hav any queries regarding the use of our class fund, feel free to approach me.(i hav all the receipts from last yr and this yr! xD) yepp. so do bring along
$
2
0
on wed for jts.
W

A

R

N

I

N
G
:
NO $$ NO FOOD FOR YOU DURING JTS
.
unless you can find any jnr that is
rich
nice enough to pay for ur share.
that's about it and hope
ur
$
2
0
you on wed!
oh before i forget..to all my fellow girls in a12..
H
A
P
P
Y
I
N
T
E
R
N
A
T
I
O
N
A
L
W
O
M
E
N
'
S
D
A
Y
!
xD and all the best to the huang cheng ppl! 1 more day to becoming full time muggers!
<3
a12's
f

a

v

o

u

r

i

t
e
treasurer(:
Labels: AnnounceMents
by hanzhi @ Saturday, March 8, 2008
|
10:13 PM
3 important announcements
dear class, in case you need further clarifications or have not received messages from the class relay, here's some info.
CHANGE OF CLL PAPER 1 DATE (25 MARCH 2008) AND TIME
for CSC+CLL students: CLL P1 will be held at 10am-1pm. obtain lunch from LEP room after the test and then you will sit for CSC paper in the hall.
for CLL non CSC students: CLL P1 will be held from 1-4pm. (reporting time- 1245pm)
for CSC non CLL students: there has been no news yet so just wait patiently and don't panic k.
venues to be confirmed at a later date.
JTS 12 MARCH 2008
meet 6pm at orchard mrt
money matters to be confirmed. as of now,
As our junior class doesn't have enough funds yet, please bring money (advised $15-$20) to pay for your own food first. we'll be reimbursed accordingly at a later date. the $15 cap should still apply though.
hope most of you ppl can go! plan your revision schedule in advance and make time for the outing(expected to be short and sweet quality time lol)!
attention HUANG CHENG goers
date: 9 march 08, sunday
meet: 545 at cityhall mrt
eating dinner tgt. if you wanna share flowers with me sms me NOW! (:
thanks all for reading (: all the best for block tests!
love,
your A.CT with the yellow backpack <3
by Unknown @ 11:31 AM
JTS/STJ
HMM. Seems like the juniors finally decided to give us a treat afterall =)
Most likely it'll be next Wednesday, so people, PLEASE KEEP NEXT WEDNESDAY FREE!
Most likely we'll meet in the afternoon, interact a little, go queue for food.
Budget is $15 per senior [means we cannot order more than that =(].
Please watch this blog for updates!!!
P.S. Some people complained that the tagboard isn't working, so I added a cbox. Now we have TWO tagboards! Hopefully more people would tag XD
P.S.S. STJ is most likely to be shelved... till after blocks? I'll talk about it in another blogpost heh.
by milk-cookies @ Wednesday, March 5, 2008
|
10:02 PM
Hmm. I'm bored. So I'm here to post up some pictures/ videos taken during GP lesson on thursday (Mdm Madihah's lesson). If by any chance certain photos/videos cause you discomfort, please let me know I'll take them down =)
Lilong's zai diagram on... how the market works? (Sorry I can't remember ><)
Ultra attentive [=)]class with an amused ruian in the background

Lilong caught in act for stealing Meixuan's water.
Lilong caught in act for stealing Denyse's thumbdrive.
Aha! Double evidence!
Szuan's table is messy!

Cheryl: very attentive. Meixuan: very pro. Szuan: very happy.
Lilong's failed attempt to take Ruian's pic.
Lilong's presentation! (Didn't apply what he learnt from PW XD)
Szuan's presentation (Definitely PW standards =D)
Ohoh, and if you've missed out on POP and Fac Dance Competition (like me!), check out this vid XD Koped it from junior class blog, heh.
Labels: Pics N Vids
by milk-cookies @ Saturday, March 1, 2008
|
9:03 PM
csc hw
For csc people in case you can't find the question
请在仔细了解"和平共处五项原则"的基础下,找一则中国外交活动(1978-2007)进行研读分析,叙述该项外交活动如何扣紧"和平共处五项原则"。
格式
1)列出所选的外交活动
2)列出"和平共处五项原则"的内容
3)扣紧两者并用文字进行分析
(字数不限,按分析的深浅度作为评估标准)
最晚于29/02/08 (星期五) 交上作业
by Unknown @ Sunday, February 24, 2008
|
12:34 PM
is it just me or is it true that the tagboard isnt working?!! i have been trying to tag for days and everyday i carn. argh..decided to blog sth instead. anyway..i hope everybody had a good rest over the past few days and got lots of ang baos! and i bet you guys are thinking what you should do with so much
ang bao $$
. let the damn zai treasurer tell you!
SAVE IT FOR CLASSFUND!
yay! xD
eh. ok. shall be serious. be prepared to pay classfund for stj soon. cause last yr our dear jts ate up all our classfund and not only emptying it but also negating it. i dont want the same thing to happen again this yr and i definitely dont want to see a hole being burnt through the classfund pocket. (: yepp. as for
cheryl
,
kiantat
and
zhu chuan
,
pls pay the 10bucks that you guys have yet to pay for the previous classfund collection asap
.asap meaning like within the next 2 days! if not interest will be charged! yay!
and jnrs! where is our jts?? *looks forward to sth good* (:
oh yah..before i forget..though it's a bit too late for this..but well..
H

A

P

P

Y

C

N

Y

E

V

E

R

Y

B

O

D

Y

!

(

:
Labels: AnnounceMents
by hanzhi @ Sunday, February 10, 2008
|
12:05 PM
cny 2008 :)
siying performing 触电 :)
szuan and bentoh! :)
szuan! :)
jon ong ewe mx in mtl staffroom haha.
mx ewe and eerie hand in consultation room. csc students' favourite place!
捞鱼生!步步高升!
ewe miss tan mx :)
ewe daxian mx :)
haha jon ong
mx n me n i-weekly!
Labels: Pics N Vids
by Denyse @ Wednesday, February 6, 2008
|
9:51 PM
National Income.
Posted upon request by Mr Leong. (Click for larger image [A4 size])
The above chart contains all points that we can refer to for any question asked pertaining to national income. (Chart was used in Mr Leong's tutorial group.)
by milk-cookies @ Wednesday, January 30, 2008
|
6:43 PM
LEP Blog
Hello to those taking CLL, from now onwards, you are free to use the online portal
http://hwachonglep.blogspot.com/
! Thankz a lot!
各位修读H2华文语文与文学的同学请注意,从此刻开始,大家可以尽情使用语特博克!
http://hwachonglep.blogspot.com/
谢谢大家的支持!
by Wolly @ Saturday, January 26, 2008
|
9:09 PM
Hey A12 peeps!

FINAL reminder to bring $36.20 for TIMES magazine if u're subscribing! Hafta pass the money to me by wednesday (regardless of whether u're in Mdm Madihah or Dr Wilks' class!) I'm supposed to collect money from the whole class and pass to the TIMES vendor on wednesday. So PLEASE remember to bring $36.20 by wed okay! THANKYOUVERYMUCH.

<3,
GP rep aka gangstress.
by Mei Xuan @ Tuesday, January 22, 2008
|
12:24 AM
iymhello ppl frm both 07A12 and 08A12 (if you guys happen to drop by)!
there will be an
ares fac dance session
in the
hall
tmr from
3.30-5pm
. so if you are free, pls pls pls do go and learn. our dear dance i/cs will be there to teach. yepp. so hope u guys can turn up and master the dance! erm..pls help to spread the word arnd. thx!
<3 hanzhi
by hanzhi @ Sunday, January 13, 2008
|
8:06 PM
Hello A12 peeps! Please remember to bring $36.20 for subscription of TIMES magazine. Everyone is required to subscribe unless you've already done so. If you've already subsribed to it, please bring proof of subscription (just keep the wrapper of the magazine and bring to sch) and according to Mdm Madihah, a letter from your parents saying that you've already subscribed to TIME magazine -.- yepps. Ppl from Mdm Madihah's class can pass the money and proof to me, and those in Dr Wilks class can pass to Tianruo. Rmb to bring the money by 23rd Jan! For those who have already subscribed to TIMES, bring ur proof + letter and pass it to me by 17th Jan which is next thursday! THANK YOU!

<3,
one of your adorable GP reps!
by Mei Xuan @ Saturday, January 12, 2008
|
5:12 PM
upon request, photos from the junior-meet-senior session on wed. sorry about the blurriness of the photos!
(p.s. blogger photo uploading tool = crappy shit and flickr won't let me create a class account so created a class photobucket account, username & password same as class blog)
[photo deleted upon request from mao]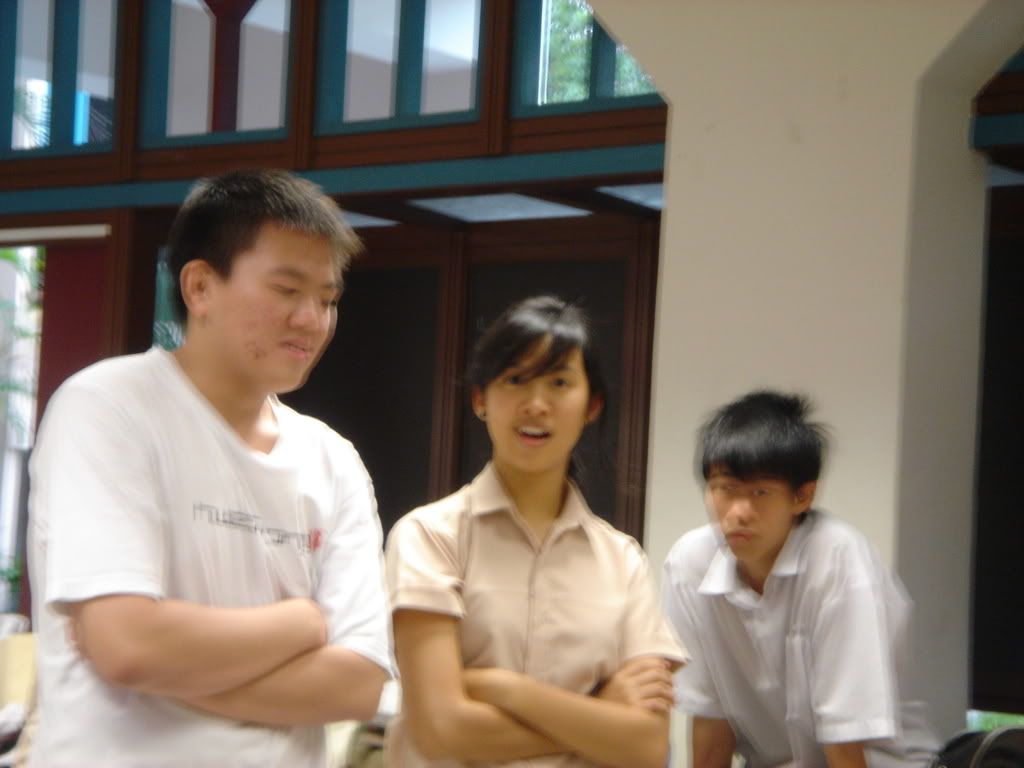 by Unknown @ Thursday, January 10, 2008
|
11:00 PM